This Utah Mulie was a blast to hunt. I found him during the archery season, but he was in a place that I knew if I left him alone, come the Muzzleloader and Rifle seasons I would be able to put the smack down on him. I tracked and chased him during the muzzleloader hunt and never could get a close enough shot. Then came the Rifle hunt! Opening morning of the rifle hunt I knew right where I wanted to be and set up my glasses. After scanning the country where this buck called home, I found him under a cedar tree right where he had been since the archery season. I set up and ranged him at 320 yards. I set up my sticks, dialed my scope in, and let him have it. I can never get enough when it comes to Mule Deer Hunting! Gotta love it baby!"

I have had the opportunity to hunt with Chris Peterson of Dakota Hunting Trips many times in the last few years.  I also have plans to hunt with this organization and others that he represents in the future as well.  Whether you plan to hunt big game, birds or just want to relax with a prairie dog shoot, Chris always has everything organized and under control.  From the time you plan and book your hunt to completing your adventure, everything is taken care of and communicated to you so you can be assured everything that is controllable in a hunt is.  I highly recommend looking into what Chris and Dakota Hunting Trips has available and allowing Chris and his group to provide you an enjoyable and rewarding experience. 

Ron Storck
Wisconsin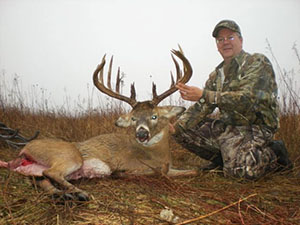 We have been leasing this property for 9 seasons now and have always promoted taking mature deer with the intention of harvesting quality bucks. Over those years, we have taken some really nice bucks both during archery and gun seasons and usually someone in our group gets to see an outstanding buck as well. This year was typically for me as I passed on three smaller bucks the first day of gun season hoping that they would survive to grow into mature bucks. We always have told the new and young hunters to take whatever they wanted for their first deer and be proud of that but those hunters are now actually more selective than I could ever be and have set pretty high standards for themselves. The second day started out with warmer air temperatures however the heavy overcast skies and a foggy drizzle made it actually feel colder than the previous day. Around 9AM, I noticed a deer moving in an out of heavy dogwood and willow grass cover about 130 yards out looking to make his way back to safety. I didn't have much time to think about what I was going to do, but it was obvious that he was a shooter as I could see the main beam was long and heavy. The background cover and the dreary day made it difficult to see much of the rack detail. I found an opening, made the shot and actually heard the hit as he stepped into the clearing but immediately he was gone. Just in case I kept the gun on that spot hoping he was down. I couldn't see him or be sure of what just happened but it took less than 10 seconds from when I first saw him until it was over. When I got to the deer and saw what I just harvested, it remains hard to explain the emotion and feelings of what just happened. The rack seemed massive, with heavy long beams, strong points, extra points, splits and pearls on the bases. This buck was one that my hunting partner had seen only once before during archery season and was exactly as described, He is a 12 point typical with 5 extra points which include split brows plus three more for character and bases going 6 inches grossing around 187. Not sure if I will ever match or exceed this again but I certainly will enjoy trying."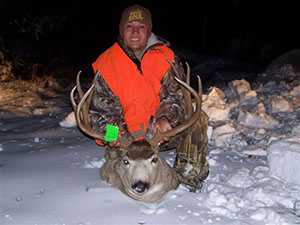 It was opening weekend of the South Dakota West River deer season in November 2008. A historic early November blizzard had just blown through the western part of the state. The interstate opened little by little the further we drove west towards Mellette County. I had an excellent area scouted out where I spotted several trophy mule deer while bow hunting just two weeks earlier. Now my only worries were even getting to Prairie Dog Lodge and then getting to the hunting area. Well, we finally arrived to the plowed driveway of Prairie Dog Lodge and got settled in for our four day hunt. Snow drifts 5 to 10 feet tall, cold and wind made the first couple of days hunting a little tough. My wife, Cassandra, and I were able to fill our doe tags in the first 2 days. Finally, on the 3rd day of the hunt we hit the alfalfa field for an afternoon hunt, knowing that the deer would be hitting it hard after hunkering down for a few days out of the wind and cold. There were dozens of deer within shooting distance of my setup. One muley buck in particular looked pretty darn good, but I wasn't sure because at the angle in which I was looking at him, he looked to be a 3 x 3, with no forks on his front beams. Other than that he was pretty wide and fairly heavy from what I could tell. He was chasing does all over that field and I kept watching him. Finally he turned his head towards me so that I could tell that he did have forks on his front beams and that he would definitely be a wall hanger. I got my rifle set up and waited for him to stop broadside to me. He did stop broadside, and I slowly squeezed the trigger. I heard the 'smack' and knew my 150 grain bullet from my Tikka 300 WSM flew true to the target. He lurched and ran over the hill into the cedar draws. I waited a little while as Cassandra made her way to me from her position. It was beginning to get darker, but the tracking job was very easy in the snow and I found my buck in the draw a little ways away. We did the work and got him back to the truck well after dark. It was the biggest buck I have ever shot, and we went back to Prairie Dog Lodge and celebrated with our friends Chris and Abby.

I've been on 2 Turkey Hunts with Dakota Hunting Trips and the hunting is unbelievable the accommodations are first class and Chris does his homework and will put you on the game! 
Fixing to book my third strait year for turkeys.

Guy Adams
Louisiana


In 2003 I was watching the Outdoor Channel.  The show on was Dez Young and his setter Hank
From I believe Oregon. The show is now Dez and Dash.  They travel around the country hunting
For birds in many locations. They were at a ranch in South Dakota which looked great and the owner stated they also offered a few deer hunts. I called the rancher and was referred to Dakota Hunting Trips. That was how I became acquainted with Chris and Eric, who subsequently left for military reasons. We have returned each year and this year at last we hopefully will get to meet Chris in person. This has been a very good relationship. The hunting where we go is very good however should something happen that changes that we will see what else Chris suggests. Chris offers great value and knowledge and is the real deal. I would be glad to visit with prospective clients. 

Eric Shields 
New York


I want to thank you and your staff for a great time for my son and I on our hunt.  My son recently graduated from high school and I asked what he wanted to do for graduation and Dakota Hunting Trips was at the top of his list.  This was our second hunt with your company and we enjoyed it very much.  We enjoyed the cabin and meeting and talking with other hunters as well.  We even woke up one morning to see an antelope just outside our cabin.  We will be planning another trip and you will be the one we will call.

Michael Strawser
Indiana


I have had the pleasure of hunting with Chris Peterson of Dakota Hunting Trips and others that he represents since 2005 and will continue to do so for a long time. Chris will take control and organize the hunt of your choosing from big game to birds to prairie dogs, archery, muzzle loader, rifle, or shotgun. He does an excellent job. I highly recommend giving Chris of Dakota Hunting Trips and his group a chance  to secure your next hunt of a lifetime.   

Dan 
New York


I've been able to hunt all over North America, Alaska, Canada, and Mexico, and I would have to say that Chris Petersen with Dakota Hunting Trips has got to be one of the best operations that I have been able to hunt with.  Talk about first class!  WOW!  Chris is a very honest, hard-working, dedicated person that focuses on giving you nothing less than an unbelievable experience that you will always remember! From the beginning to the end has time after time been a flawless and seamless experience. I have hunted with Chris several times and been successful on every trip.  The quantity and quality of game has been off-the-charts, along with the turn-key operation that Chris runs.  His assistance in applying for the proper tags, and in some cases actually applying for me has been worth every penny spent with Chris and Dakota Hunting Trips.  Chris has done a wonderful job at providing the best experience from the time that I arrived down to the very last hour of the hunt.  His entire focus has proven time and time again to be ME, the Hunter, and nothing else! The main thing that I have also noticed with Chris and his operation has been, that no matter if you are hunting Mule Deer, Whitetail, Antelope, or Birds, there has never been a shortage of animals and or shot opportunity.  He has known the areas that I have hunted very well and has always had me in the best position to have the highest success opportunity every time that I have hunted with him.  It has never been if you are going to see the animals you are hunting, but which one you want to hunt. If you are looking to hunt anything that Chris Petersen with Dakota Hunting Trips has to offer, there is no reason to look any further.  Trust me, if you book once, you will book again!  Believe me, you will have no regrets and a hunting trip that you will always remember! Thanks  for all of the memories Chris.  I have enjoyed some of the most memorable hunting experiences of my life! I'll be back as often as I can! 

Sincerely, Josh Harris  
Josh Harris
Owner / Hunting/Fishing Consultant
Worldwide Trophy Adventures


I met Chris Peterson at the Harrisburg Sportsman's Show in Feb 2009. We had hunted pheasants in South Dakota that fall and had been less than satisfied with the area and the number of birds that we saw. This was partly due to weather conditions and crop harvesting delays so rather than chance it happening again we decided to look at other areas to hunt in South Dakota. I only talked with Chris for a brief time but he outlined the type of hunts that were available and mentioned that we would be hunting wild pheasants, sharp tailed grouse and prairie chicken, all of which sounded much better given the fact that the pheasant season opens at 12 noon on opening day and 10 in the morning on the days following so adding additional birds to hunt would help make our trip and time more enjoyable. After looking at the different packages and talking to my group we booked the hunt for October 2010.

We have taken many hunts over the years and sadly some never live up to the promises and expectations given when the hunt is booked. This was most certainly not the case in booking with Dakota Hunting Trips. After receiving our deposit, Chris sent us a letter detailing every aspect of the hunt, lodging, directions and what equipment we should bring in order to make the experience more enjoyable. With the letter, we received a DVD showing various hunts available through Dakota Hunting Trips which served to whet our appetite for the trip. 

When we arrived at the lodge and through the 3 day hunt we received excellent treatment:  The accommodations were clean and well kept. The food was delicious.  The guides worked tirelessly to ensure we had a good hunt and were more than willing to keep going as long as we could manage or if we bagged our limits, whichever came first. 

Were we satisfied!  A resounding yes, so much so, we have booked another hunt for 2011 and know we made the right choice with Chris and his outfit when it comes to bird hunting in the great state of South Dakota. 

Derial Sanders, PA


When booking a hunt for the first time or for the tenth time, the question in the back of your mind is can I trust this booking agent/outfitter to provide a great value to justify the money spent, time away from work and family, etc.  I have booked several hunts through Chris Peterson with Dakota Hunting Trips and he always takes the time to get to know what you want out of the hunt…  Several aspects of the hunt weigh differently with different clients, such things as lodging, meals, quality of animals, quantity of animals, terrain, guiding and other amenities.  I now use Dakota Hunting Trips as my sole agent for 100% of my bookings.

Shaun Lebert      Colman, SD